Volleyball national league Herrsching tests stappone in training assessments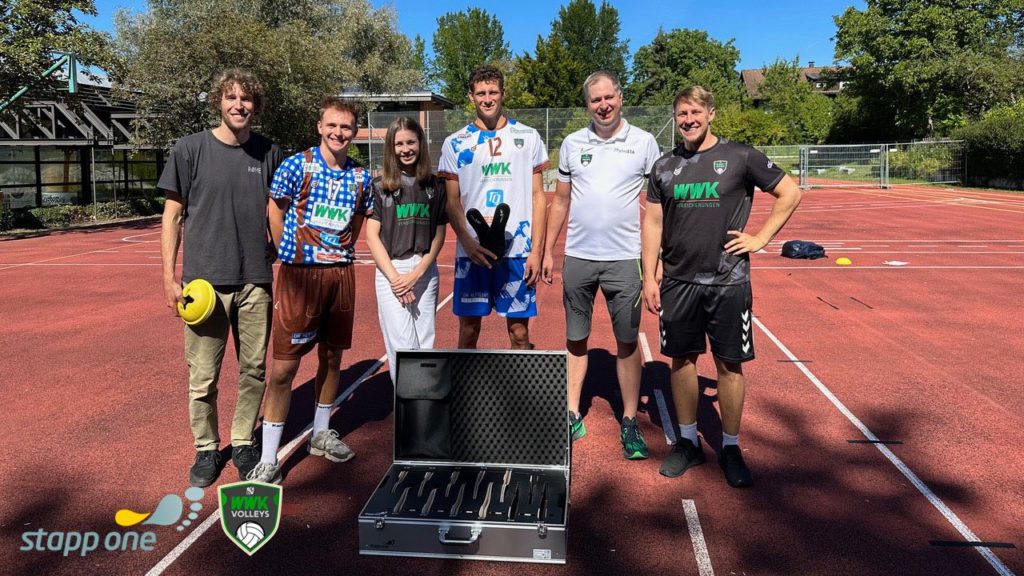 The volleyball national team WWK Volleys Herrsching continues its successful collaboration with stappone to support its players with assessments and prevent injuries. The partnership started back in September 2022 and has now extended to the training of the national league's team, where stappone provides valuable insights into the player's movement patterns.
Detect increased risk of injury
In general, the cooperation with WWK Volleys Herrsching is about supporting the national league's team in their sports assessments and subsequently preventing injuries. In professional sports, it is common practice to conduct regular tests with athletes, whether for performance diagnostics or to identify a possible increased risk of injury. By visualizing movement parameters such as pressure distribution, centre of pressure or symmetry of movement, stappone provides a unique added value in the assessment of movement quality. An uneven pressure load can indicate possible weak points, muscular imbalances, or a high risk of injury.
The tests
At the last appointment with the national league's team of the WWK Volleys Herrsching three tests were performed. One was the Lower Extremity Functional Test (LEFT). Here, the athletes complete multidirectional running forms – forwards, backwards, sideways, sideways with step-over, 45* cut, 90* cut.
The result of the LEF test is the time needed to perform all movement tasks. stappone adds the above-mentioned parameters to the test results and therefor provides objective insights.
Afterwards, any abnormalities are discussed together with the athletic trainer, the physiotherapist, the head coach, and the players. The goal is to identify abnormalities in movement behaviour and thus to be able to recognize players that are potentially "at risk" and provide them with the best possible care.
Motivated players
The players of WWK Volleys Herrsching accepted the stappone sensor soles very well. The initial scepticism was blown away after using the soles. Instead, the interest in the outcome was very high as well as the motivation that came with the comparison between the players.
With stappone sensor soles, training can be planned better and individually. We are pleased about the cooperation and excited about the future comparison values.
The testing with STAPPONE Research
STAPPONE Research consists of the intelligent stappone sensor soles and corresponding software. The soles measure the volleyball players' foot pressure load, while the software provides visual live biofeedback on the foot pressure load as well as objective data on other movement-related parameters. The stappone system is mobile and easy to use, which made it possible to do the testing outdoors.
Do you have questions about the use of stappone or would you like to have your sports team tested as well? Please contact us! We are always at your disposal.
Find us on LinkedIn and become part of our community! We keep you updated about stappone, medicine and technology!