Simple, fast and objective
STAPPONE Medical is ideal for doctors, (outpatient) clinics and rehabilitation centres in the orthopaedic and neurological field who want to use gait analysis to:
make their patients understand the diagnoses based on objective data
visualize the treatment in order to increase the patient's motivation
customize therapies even more individually to patients
visualize movement sequences for their patients in real time with live-biofeedback. In this way, patients can influence their movement in real time and learn the right movement pattern more easily.
Contact us now! We would be happy to make you an offer. 
For an even more effective therapy, doctors also have the option to prescribe STAPPONE Rehab to their patients. This allows them to correctly perform recommended therapeutic exercises like partial weight-bearing at home using the sensor soles and their mobile device.
What is STAPPONE Medical?
STAPPONE Medical is a mobile gait analysis system and consists of our medically certified textile sensor insole and the corresponding software. It measures the patient's foot pressure load and enables objective motion analyses. The sensor sole is inserted into the patient's comfortable shoes (e.g. sports shoes) and connected via Bluetooth to the corresponding software on a terminal device (PC/tablet). In this way, gait anomalies can be visualized quickly and objectively.
Gait anomalies can also be observed and diagnosed with the naked eye. However, these findings are always subjective and inaccurate. STAPPONE Medical uses various gait parameters and diagrams to show objective information. This makes it easy to understand which parameters deviate,  for patients as well! With the help of the corresponding patient database, reports from previous gait analyses can be compared. At the same time, dynamic exercises can be performed supported by live-biofeedback, allowing patients to recognize their body's movement patterns and influence them in real time. 
STAPPONE Medical Software
Ready to start in just a few seconds
2. Connect to stappone software on computer or tablet via bluetooth
3. Live movement data, clear and easy to understand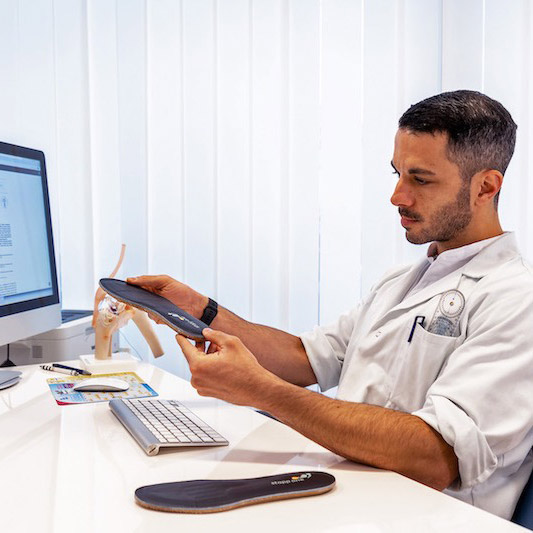 The technology
stappone sensor insoles have a worldwide unique sensor technology. The textile pressure sensor technology, which is integrated over the entire surface, is unrivalled when it comes to durability. All electronic components are fully integrated into the sensor sole. Together with a memory capacity of 256 MB, gyroscope, magnetometer and accelerometers, it provides incomparable added value in load management and rehabilitation.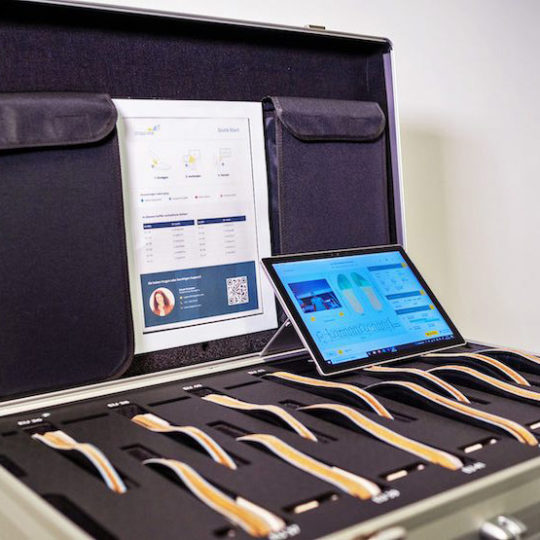 The STAPPONE Medical product package:
Suitcase with integrated chargers
12 pair sensor soles (sizee EU36 – EU47) easy to disinfect for multiple use
STAPPONE Medical Software
Starter Guide
Possible areas of application for gait analysis
Orthopaedics
Pre- and postoperative for trauma of the lower extremities
Meniscus lesions

 

Injuries of ligament structures (e.g. rupture of anterior cruciate ligament, supination trauma)
Fractures of the lower extremities (surgical and conservative treatment)
Tendon problems (e.g. Achillodynia, mb. Osgood-Schlatter)
realignment osteotomies (leg axis correction)
complex foot reconstructions
Arthrosis
total endoprosthesis (hip and knee)
Hallux valgus operations
Foot deformities (splayfoot, bent foot and flat foot)
Neurology
Insult
Parkinson's disease
multiple sclerosis
Polyneuropathy
Incomplete paraplegia
Ataxia
Nerve lesions
In addition to the STAPPONE Medical mobile gait analysis, we also offer patients STAPPONE Rehab – a tool to help them comply with their prescribed partial weight-bearing. As a doctor, you can prescribe STAPPONE Rehab to your patients, providing them with effective support at home. The patient can easily perform recommended therapeutic exercises at home without the need for assistance. This can reduce the rehabilitation time by up to 25%.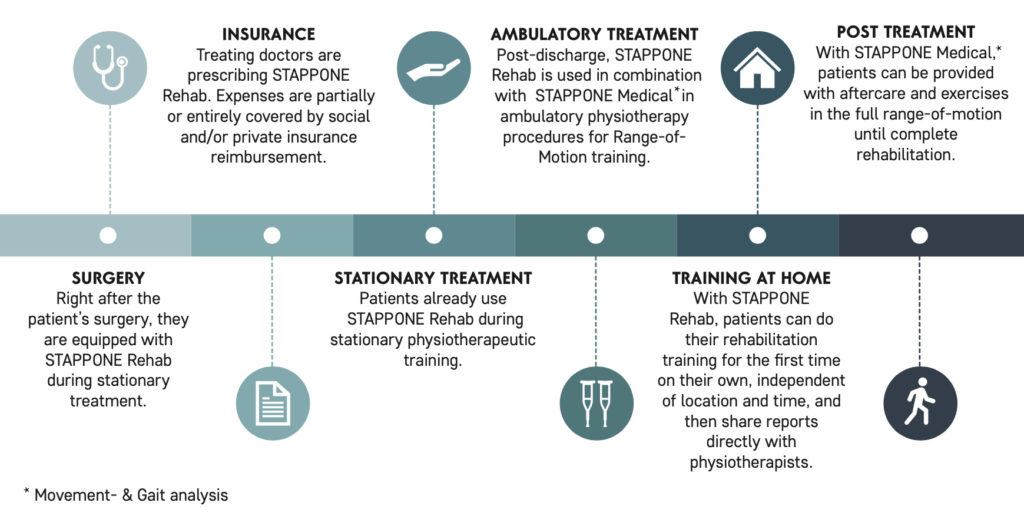 Testimonials
Das sagen medizinische Experten zu stappone.
The software is very intuitive. We had about an hour of training at the beginning and then we could start right away.
The use during the assessment 6 minutes walking test leads to an increased significance, because by collecting the data a "mini gait analysis" is performed. The patient receives a visual representation of the data and patient education is provided from the first moment.
stappone research and development partners
Interested?
We are pleased about your inquiry.