Soccer player of the year, Julia Hickelsberger-Füller uses stappone for therapy training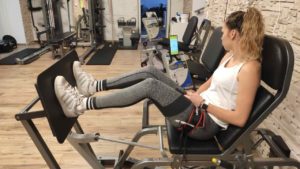 Julia Hickelsberger-Füller made it – she is Austrian soccer player of the Year 2022! This is the result of hard work after setbacks, such as injuries. In professional sports, injuries are particularly feared, and a quick comeback is usually the ultimate goal. After her severe knee injury, the Austrian women's national soccer player Julia Hickelsberger-Füller was treated with STAPPONE Physio with partial weight-bearing training and soon after was able to achieve huge therapy successes.
A professional athlete's biggest fear became reality for her: Julia Hickelsberger seriously injured her knee during a European Championship qualifying tournament in September 2020. The result was a knee ligament surgery followed by intensive rehabilitation. Her supervising physiotherapist Patrick Kasztner explains that in the physiotherapeutic treatment of a knee injury, the reconstruction of the thigh muscles and postural control are essential. Rehabilitation often takes up to 6 months and means a long absence from professional training.
Full weight-bearing after only 6 weeks
Julia Hickelsberger started her prescribed physiotherapy after surgery at the Vienna Sport physiotherapy & Performance Center supervised from Patrick Kasztner. For the first 6 weeks they trained partial weight-bearing using live biofeedback. The pressure on the operated leg was precisely and constantly checked with STAPPONE Physio  and the pressure was continuously increased to arrive at full weight-bearing. Already after 6 weeks full weight-bearing was possible and they started to work on optimizing the postural control.
Comeback with stapp one.
Mobilization with partial weight-bearing using stappone helped Julia Hickelsberger to relearn and optimize the feeling of the correct weight-bearing.
"The live biofeedback training with the stappone sensor soles really motivated me and supported my rehabilitation" the professional soccer player says happily.
stappone contributed significantly to this positive outcome with its playful training method.
The intelligent stappone sensor soles measure and visualize the live foot pressure. The visualization of the biofeedback on a smartphone or tablet enables not only therapists, but also patients to control their exercises. So stappone offers the possibility of checking oneself during training – a unique and playful approach that motivates and inspires.
As in the example of Julia Hickelsberger, the patient can work with balance training games. stappone provides objective data that can be used to visualize and compare the progress made during training.
Do you have questions about the use of stappone in your clinic or practice? Contact us! We are always at your disposal.
Find us on LinkedIn and become part of our community! We keep you updated about stappone, medicine and technology!

ORF article: "Österreichische Fussballerin des Jahres 2022"