Stappone Physio
New therapies with
live bio-feedback

A new, innovative therapy tool for physiotherapists & trainer
A new, innovative therapy tool for physiotherapists & trainer
The stapp one sensorsole can be integrated into therapy sessions and provides valuable biofeedback. Due to its flexible usage, it can easily be placed in many comfortable shoes. The pressure and balance measurement data are wirelessly transferred to a screen or tablet in real time. Simultaneously, video recordings during the session can be synchronized including the recorded foot pressure, allowing recordings to be compared!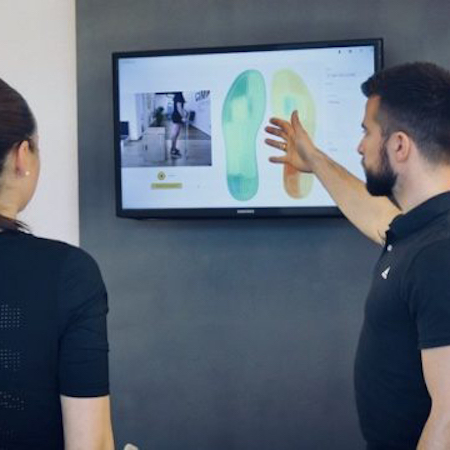 Therapy applications with stapp one:
Targeted strength training – even with free weights
Postural control training
Sensomotoric movement exercises
Training for foot weakness
Uniform strengthening of the muscles
Coordination and flexibility exercises
Request Info PDF
The stapp one Physio Set: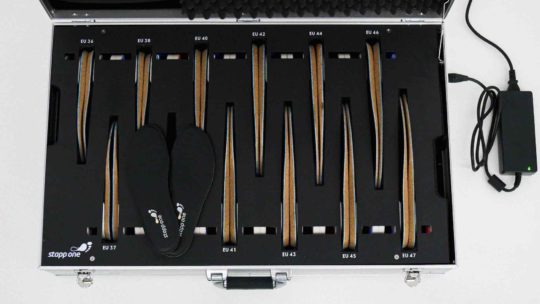 Medical set with 12 sensor soles (EU 36-47)
24 integrated stapp one chargers (wireless energy transfer)
stapp one medical software for Windows
Bluetooth adapter (USB)
Certified medical product (version medical)
Ready to go in a few seconds
2. Connect to the stapp one software on a PC, tablet or smartphone via Bluetooth
3. Movement data can be called up live and in a clear way
Three practical examples of application with stapp one
Optimization of the foot's rolling behavior
Uniform strengthening of the muscles
Targeted training of a physiological gait
Innovation Award for
stapp one
Registered
Medical Product

ISO 13485:2016
Austrian Innovations
Award 2019 Vlbg.
Made in Austria
with love
stapp one research and development partners











Interested?
We are pleased about your inquiry.