Smart wearables – the medical products of the future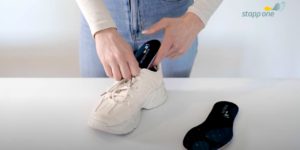 Smart wearables are the innovation of the future and have enormous potential for growth. Especially in the fields of sports and medicine, they provide great added value and are becoming increasingly popular. Our stappone products are wearables that are mostly used for rehabilitation, but will become very important in the future, especially in the health care sector.
Wearables – what's that? Smart wearables are "sensor-based miniature systems that are embedded in everyday objects and can be worn on the body."¹
These wireless systems collect data and transmit it to a wide variety of end devices, such as smartphones, tablets, laptops, etc.
stappone sensor soles as a versatile wearable
The stappone solutions are innovative medical products that build the foundation for the wearables of the future. They consist of the intelligent stappone sensor soles and the corresponding software or app. The soles, equipped with innovative and high-quality textile sensor technology, are simply inserted into comfortable shoes and measure the foot pressure load and other gait-relevant parameters, such as the body's center of gravity and cadence of patients. The corresponding software provides live pressure load biofeedback for real-time review.
In medicine, stappone is used in the areas of gait analysis and partial weight-bearing, especially in rehabilitation. By using STAPPONE Rehab, the rehabilitation time can be reduced by 25%, as the patient can comply with the exact prescribed load limits for the first time. In elite sports, stappone products are used to identify incorrect loading of athletes in order to prevent possible sports injuries. Thanks to the textile sensor technology including acceleration sensor technology, data from the players' foot pressure can be collected during a game in order to predict peak loads and prevent possible future injuries.
Our major goal is not only to prevent injuries in professional sports, but also to provide preventive health care for the general public.
One of the trend topics at Medica 2022 in Düsseldorf is "Smart, Mobile and Healthy", so stappone is a perfect fit. Come visit us and see for yourself what our products can do.
Stapptronics GmbH aus Sulz auf der MEDICA 2022 in Düsseldorf – MEDICA – Weltforum der Medizin
Do you have questions about the use of stappone? Contact us! We are always at your disposal.
Find us on LinkedIn and become part of our community! We keep you updated about stappone, medicine and technology!

¹ https://projektzukunft.berlin.de/themen/wearables