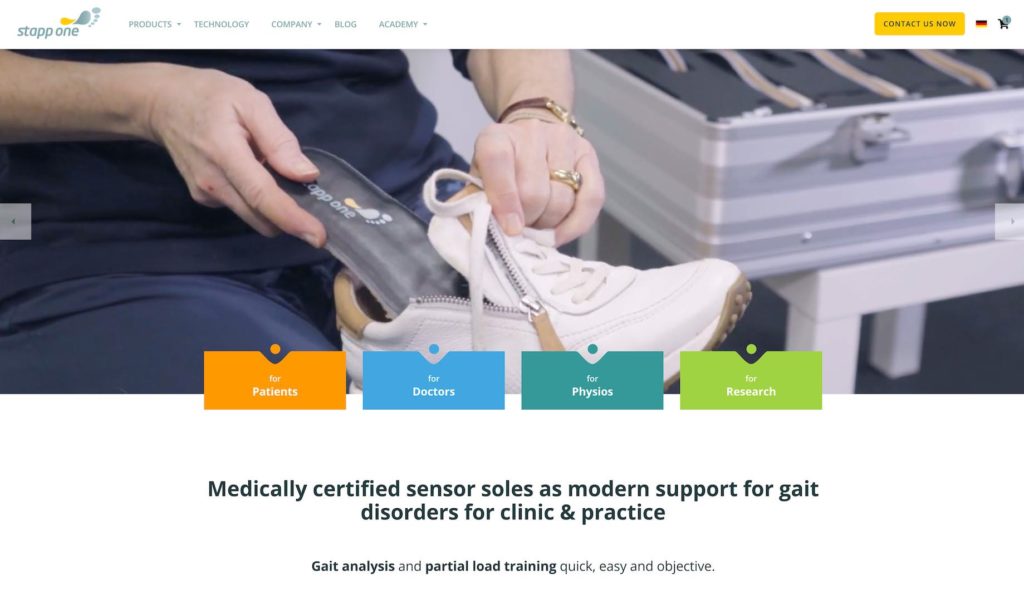 Over the past few years, our MedTech solutions have evolved. To keep up, it was also time for a website makeover to give it a modern and user-friendly touch. By addressing our different target groups directly, the user will be straight lead to the adequate product: STAPPONE Medical, STAPPONE Physio, STAPPONE Rehab or STAPPONE Research.
Perfection needs time, that we know. After months of work, the project "Website-Makeover" now comes to an end by taking the same approach as in developing our products – we are content when our quality standards are met.
Now we can proudly announce: We are live!
Stop by and see for yourself!
Our stappone product worlds
For a more intuitive experience on our website, we have divided and revised our product according our target groups. This way, visitors can access relevant information on products more quickly. Whether treating medical staff or patients looking for support for their rehabilitation – our new website provides information easily accessible everyone.
Our stappone products consist of our intelligent stappone sensor sole and the corresponding visualization software or smartphone app. The sensor soles are inserted into a comfortable shoe (e.g. sports shoe) and represent the plantar pressure distribution of the patient.
STAPPONE Medical, for doctors or clinics, is a mobile gait analysis tool that helps, providing fast and objective diagnosis and progress monitoring throughout the rehabilitation.
With STAPPONE Physio, physiotherapists can extend their therapy offer with live biofeedback training and therefore generate enormous added value for their patients.
STAPPONE Rehab is our revolution of partial weight-bearing. With the stappone sensor soles and the corresponding smartphone app, patients can independently track at home and at any time whether they are staying within their load limits, which potentially shortens rehabilitation time.
STAPPONE Research is also a valuable product for research projects. Especially in this field, collecting objective data is crucial. STAPPONE Research provides said data in a quick and simple way, entirely independent of any laboratory setting. STAPPONE Research is already used for clinical studies, dissertations or in sports science projects.
Have a look at our different products!
Do you have questions about the use of stappone? Contact us! We are always at your disposal.
Find us on LinkedIn and become part of our community! We keep you updated about stappone, medicine and technology!