News: stapp one maintains ISO 13485 certification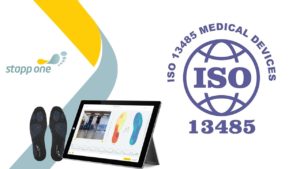 For professional medtech companies, an ISO 13485 certificate is indispensable. This certificate proves that the company meets the international standards of an effective quality management system. As a company with strict standards, stapp one sought and received certification in 2020 and has received it every year since.
The ISO 13485 certification not only regulates the product's quality, but also ensures that the company itself meets certain standards. Every year an audit is required for renewal. For this purpose, an auditor spent a whole day at stapp one's headquarters in Vienna and took a close look at the quality management system. He reviewed, for example, work processes and corporate management.
One of the fundamental values at stapp one, is the firm integration of quality management systems, including its strict rules, procedures, and processes, into everyday workflows.
High quality products for better health
The STAPP ONE Medical product combines the insoles with a corresponding software. This software provides a visual live biofeedback of the pressure load and other relevant movement data like stride length and cadence.
The STAPP ONE Rehab product, combines the stapp one sensor soles with a corresponding app. This app helps patients to maintain their prescribed load limits for partial weight-bearing and provides visual, haptic, and acoustic feedback in the case of an underload or overload.
With stapp one, patients can train safely and correctly, which has a positive effect on the healing process.
We are pleased about the official confirmation of our quality standard by the renewed ISO 13485 certification!
Do you have any questions about the use of stapp one? Contact us! We are always at your disposal.
Find us on LinkedIn and become part of our community! We keep you updated about stapp one, medicine and technology!