Behind the scenes at stapp one: data science and a project with the AUVA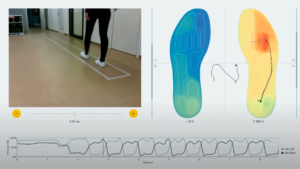 stapp one is currently carrying out an interesting project in cooperation with the AUVA – the Austrian Workers' Compensation Board – assessing the healthy foot's standard uprolling behavior. The project's aim is to determine a healthy standardized uprolling line in order to have a reference for future analyses, but also to generate data for the further development of the medically certified sensor sole. Our stapp one Data Scientist Gerald Hirsch gives a little insight into the project and his work.
Gerald Hirsch's main task as a Data Scientist at stapp one is the data analysis and algorithm development. But what does that actually mean? "From the sensor sole and the 12 pressure values per foot, we get many parameters. That's still relatively simple, because it's just data. The complicated thing is that you then have to actually make the data usable for different applications. I am active in this intermediate step. I have the pressure values and have to see what I can derive from them, what additional information I can draw from them." explains Gerald Hirsch.
He gives a practical example: "When it comes to step recognition, actually the acceleration is measured combined with the pressure data. To get information from this raw data, such as that the foot has just taken a step, is the task of the Data Scientist."
Identify a standardized uprolling behavior
In cooperation with the AUVA, stapp one determines the standardized uprolling line of the foot using test persons. On the one hand, this data is important for the further development of stapp one and, on the other hand, provides a reference for future analyses with stapp one. In the future, it should be possible to determine the extent to which the uprolling line deviates from the standardized uprolling line in case of diseases and deviations in the musculoskeletal system.
"It's interesting because the uprolling line shows the uprolling behavior during normal gait and how the pressure distribution changes," says Gerald Hirsch. "Of course, there are also pressure plates that do similar things but only in the static area. Dynamically it is also possible on treadmills but stapp one sensor soles have the advantage that you can look at the normal, unbiased motion sequence."
Much potential for the future
What fascinates Gerald Hirsch most about stapp one is that it is a company with many possibilities. "Our software solutions are really pushing the boundaries and the sole itself is actually a tool that will have even more applications in the future."
Do you have any questions about the use of stapp one? Contact us! We are always at your disposal.
Find us on LinkedIn and become part of our community! We keep you updated about stapp one, medicine and technology!