Welcome to the stapp one team, Jakob Schmidrathner!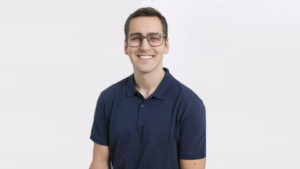 stapp one has a new team member! From now on Jakob Schmidrathner  is our Patient Expert and therefore the professional link between the health sector and the digital world.
Jakob Schmidrathner is a practicing physiotherapist and studied Digital Healthcare at the UAS St. Pölten (AT). For his master's thesis "Effects of real-time biofeedback regarding peak load on lower extremities in healthy individuals: a pilot study" he successfully used STAPP ONE Research as a measuring instrument. He soon saw its huge potential not only regarding research but also the field of rehabilitation and prevention. stapp one sensor soles are simply inserted into comfortable shoes and measure the patient's plantar pressure. The corresponding medical software provides a visual live biofeedback of the pressure distribution as well as objective data of other relevant pressure and gait parameters like cadence and stride length.
Innovations for the future
stapp one is a strong advocate of digitalization in rehabilitation and is confident that STAPPONE Medical and the partial weight-bearing app STAPPONE Rehab will improve patient treatment in the future.
This vision is also the basis for the future stapp one Academy with Patient Expert Jakob Schmidrathner as it's head. Physiotherapists and doctors will learn how to professionally use stapp one for motion and gait analysis.. When it comes to technical questions regarding the use of stapp one, Jakob Schmidrathner will be the direct contact person for physiotherapists, doctors and podiatrists. Furthermore, he will co-conduct studies and speak at trade shows.
His motto: Don't panic!
We are looking forward to a successful collaboration!
Do you have any questions about the use of stapp one? Contact us! We are always at your disposal.
Find us on LinkedIn and become part of our community! We keep you updated about stapp one, medicine and technology!