St. Pölten University of Applied Sciences on Physiotherapy for "Physical Distancing"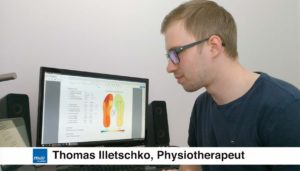 Digital Healthcare is an important topic for the FH St. Pölten. This is precisely why the Master's degree in Digital Healthcare is offered, in which the digital world and health are researched and thought in an interdisciplinary manner. Especially in times of COVID-19 and physical distancing, this area is becoming increasingly important.
The St. Pölten University of Applied Sciences cooperates with numerous innovative companies to develop concrete solutions for prevention, diagnostics, therapy and care in the field of digital healthcare. This ranges from mixed reality to visualizations in radiology.
Stappone also cooperates with the St. Pölten University of Applied Sciences. In the wake of the Corona crisis, we jointly developed an application of what digital healthcare in the field of physiotherapy with the intelligent sensor sole can look like in the near future.
The process is divided into seven steps:
1. The stappone sensor sole is delivered to the patient's home. The sensor sole is placed in a comfortable shoe and is ready for use in a few seconds.
2. Via the stappone Medical Software, which is installed on the patient's PC via download link, the connection to the respective sensor sole is established.
3. Patients and physiotherapists communicate via any video conferencing software. The patient's computer is placed in such a way that training exercises are clearly visible to the physiotherapists.
4. Training can begin. For example, the foot pressure load and the body centre of gravity of the patient are displayed live on the physiotherapist's computer. In this way movement sequences can be analysed, evaluated and optimised. Training sessions are thus highly efficient even over distance.
5. Outside the therapy hours, the patients continue their exercises with stappone and see all the necessary parameters as an aid via the stappone software. Live biofeedback provides optimal support in the rehabilitation phase.
6. Thanks to objective data, progress is measured from training session to training session.
7. A physio report also documents the course of therapy.
The above tele-solution will be implemented by stappone in the coming months. The St. Pölten University of Applied Sciences is driving the Digital Healthcare sector forward with research and practical networking.
That's why St. Pölten University is organizing the digital health networking event "Build.well.being" on June 19th 2020. It's a platform for pioneers in digital health. Scientists meet technicians, research meets innovative ideas coming from students and healthcare companies meet startups and experts. stappone is invited as well and will give a presentation on "Motion analysis and innovative tele therapy opportunities with stappone". Get all the information about the event here.
¹ https://www.fhstp.ac.at/en/academic-studies-continuing-education/media-digital-technologies/digital-healthcare?set_language=en