Prosthetic leg fitting gait analysis with stappone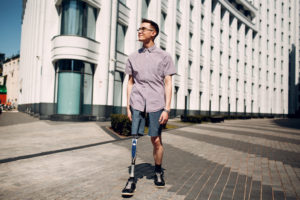 The stappone sensor soles allow quick and easy gait analyses. Especially useful for people with abnormal gait patterns due to leg prostheses, stappone provides valuable data for practitioners and pain relief for patients. Doctors, therapists and patients, all benefit from stappone's simple mobile gait analysis that saves time and resources.
Location-independent optimization processes 
With stappone, movement data can be recorded independent of location and compared with previous gait analyses to detect changes. The characteristics of walking, as well as movements relevant to everyday life, are examined with stappone. Due to the automated video synchronization software, high-tech prostheses can be checked and readjusted if and when necessary.
For physiotherapists
In addition to the general build-up training and mobilization, gait training or training of walking with a prosthetic leg, stappone plays an important role in therapy. With stappone, not only can assessments for the success of the therapy be carried out very easily, but the foot pressure load and the body's center of gravity can be objectively shown to the patient in live mode. With the mobile application, movement scenarios relevant to everyday life, such as climbing stairs, can be trained and supported by stappone biofeedback.
For orthopedic technicians
When it comes to prosthetic fitting, patients have different needs that should be met to ensure their quality of life. Often an objective gait analysis is essential for patients to be able to carry out their daily activities without pain. In just a few minutes stappone can carry out a complete analysis contributing significantly to the selection and optimization of the prosthesis. 
Mobile long-term walk laboratory for research
With stappone, extensive and individual studies can be executed with little effort. Raw motion data can be collected over several weeks for scientific research purposes as a data pool and thus offer comparisons and unprecedented optimization possibilities for people with leg prostheses.  At the same time, the acquisition costs of stappone are significantly lower compared to other measuring instruments.
If you want to know more about stappone or are interested in a cooperation, then contact us or arrange a 1:1 online presentation appointment.