Innovating arthrosis treatment – stapp one at the 39th AGA Congress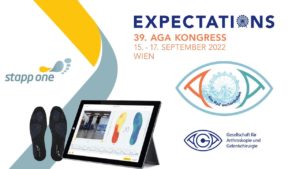 With age, more and more people are affected by the degenerative, wear and tear related joint disease, arthrosis. The AGA Congress (15.-17.9.2022)  organized by the Society for Arthroscopy and Joint Surgery puts this disease in the focus of science and research and creates a unique platform of which stapp one will also be part.
What causes arthrosis?
Over time, the slippery tissue at the end of the bones can deteriorate or even disappear completely. The joints are no longer protected during movements which results in bone-to-bone contact. This causes severe pain, limited mobility and often leads to surgery.
Arthrosis – what now?
STAPP ONE Medical is an innovative therapy option for arthrosis patients and easy to use in the doctor's or physiotherapist's office. The intelligent stapp one sensor soles are inserted into comfortable shoes and wirelessly measure the patient's foot pressure load. The corresponding medical software provides visual live biofeedback and objective data on other relevant movement parameters.
This provides therapists or doctors with objective insights during treatment. In case of arthrosis this is very helpful, because overloads can be detected and avoided. Additionally, patients themselves have the possibility to correct their pressure load using the visual live biofeedback. This increases patient confidence, can reduce pain, and even prevent surgery.
Correct load management at home
stapp one has also an effective solution for therapeutic treatment outside of the practice. With STAPP ONE Rehab, arthrosis patients can independently monitor their pressure load at home at any time and in every location. STAPP ONE Rehab consists of the stapp one sensor soles and the corresponding app. The app can be easily downloaded onto an Android smartphone and connected to the soles. After setting the load limits, the app provides visual, acoustic or haptic live biofeedback if the load limit is not maintained during training or everyday activities.
As an innovative arthrosis therapy concept, stapp one will be part of the 39th AGA Congress and is eagerly awaiting the scientific exchange.
Do you have questions about the use of stapp one? Contact us! We are always at your disposal.
Find us on LinkedIn and become part of our community! We keep you updated about stapp one, medicine and technology!