The step into neurology with stappone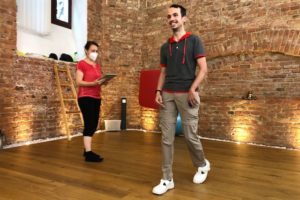 The aim of physiotherapy is to restore and maintain natural movement patterns. The optimal freedom of movement and pain should be regained. Since the rehabilitation phase in the neurological field often extends over several months or even years, it is particularly useful to make even small progress measurable and to present it objectively.
A precise analysis helps not only therapists but also patients to recognize deficits in the movement pattern and to strive for optimization. The neurological physio institute in Hernals, Vienna has had exemplary results with stappone and confirms that live biofeedback in therapy provides an enormous added value for patients.
Diagnostics & Analysis 
The stappone sensor sole is ideal for working with neurological patients. The foot pressure load, body center of gravity and gait symmetry are shown objectively in the software. A comparison with earlier data collection makes even the smallest changes visible.
Training Therapy
stappone makes simple biofeedback possible for daily practice. Through the visual processing of the measured data, not only the physiotherapist but also patients can see where there are deficits. In this way, movement correlations can be better understood and the optimal individual training can be derived and prescribed.
Completely mobile and quick to use in practice
The stappone sensor soles are easily inserted into comfortable patient shoes, connected via Bluetooth to the stappone software on the PC or tablet and the analysis of the training can begin. stappone was designed for quick and uncomplicated use in the practice. The preparation and execution of an analysis is done in a few minutes. At the same time, the sensor soles can immediately be used for the therapy session in live mode and the movement data can be mirrored on a screen. 
If you want to know more about stappone and are interested in this new technology, please contact us or arrange your personal online product presentation.
PiH Vienna: https://www.pih.wien