stappone in sports rehabilitation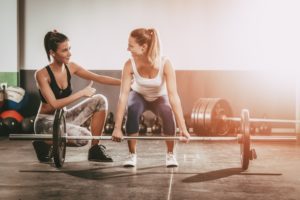 stappone is a versatile movement analysis system, which was also developed for advanced training application. stappone can raise the level of each training session and support it with innovative approaches. Patrick Kasztner, B.Sc. is a physiotherapist with many years of experience and extensive knowledge in the areas of sports physiotherapy, sports psychology, osteopathy, vegetative training and personal training. He is especially convinced by the sensor-based feedback in the build-up training: stappone can increase the motivation in the build-up training and improve the overall patient performance level.  
Visual biofeedback with stappone
Through biofeedback, stappone makes it possible to point out deficits even better. The data on the foot pressure load and the center of gravity are objective and streamed in real time for athletes and trainers. Everyone can immediately improve their body feeling. Since – especially at the beginning of a build-up training – loads are often perceived in a distorted way, it is important to get feedback on the pressure distribution of the feet. Furthermore, load limits can be kept in mind at any time. 
stappone makes improvements and correlations in motion analysis easy to understand. In this way stappone enables, for example, an efficient muscle build-up and an even more targeted build-up training. 
stappone in sports
The medically certified sensor soles can be inserted into most comfortable shoes. This means that you are no longer tied to a fixed indoor location during therapy and allowing you to train outdoors or a nearby staircase. These features make the stappone system a mobile and innovative training companion for advanced training and therapy.
Would you like to become a stappone partner in the sports area? Let's discuss the possible applications in a non-binding conversation! Contact us or arrange a 1:1 online presentation appointment.
Patrick Kasztner, B.SC., successfully completed his bachelor's degree in physiotherapy in Vienna and has gained experience in sports rehabilitation throughout Europe. Since 2014 he is physiotherapist & osteopath of the Austrian U15 & U19/U20 soccer national team. In 2016 he coached competitive athletes in beach volleyball, since 2017 the Bundesliga Handball Team West Vienna. Patrick Kasztner, B.SC: http://pkphysio.at/