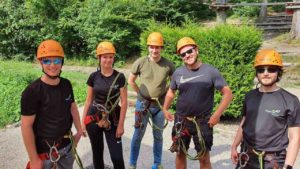 TEAM – Together Everyone Achieves More! This is also our belief at stapp one. The last team event's aim was to educate all stapp one employees about the relevance of load measurements in medicine and to provide a general update on the business. Of course, there was also time for fun.
Team spirit is a top priority at stapp one, because we know: With a strong team, you can achieve anything. That's why all stapp one employees were invited to a very special team event.
Sharing expertise in the team
Special guest at the stapp one team event was Jürgen Maureder. Employed as a physiotherapist at the Medical Center Alserstraße (VIE/AUT) he is simultaneously doing his Ph.D. on the topic of load management according to orthopedic indications. At the event he provided the entire team with a comprehensive update on current practices in movement therapy and what added value stapp one offers in this area. The goal was not only to get insights into the daily, practical application, but also to give our developers and programmers an understanding of the medical relevance of load measurements.
The innovation in the medical field
The intelligent stapp one sensor sole provides doctors and therapists with their patient's precise and objective movement data. The sensor soles are simply inserted into comfortable shoes and measure the foot pressure load as well as the center of gravity. The correspondent medical software enables a visual Live-Biofeedback to check the pressure load in real time. So therapists and also patients themselves have the possibility to correct or correct themselves at any time during training.
The resulting movement data can be saved and compared with following or previous assessments, allowing objective analysis of deficits and the training progress.
"Mens sana in corpore sano"
"A healthy mind in a healthy body" – the ancient Roman Juvenal already knew how important this is. That's why, after Jürgen Maureder's informative lecture, the stapp one team went to the climbing park in Purkersdorf (AUT) to stimulate not only the mind but also the body.
Do you have questions about the use of stapp one? Contact us! We are always at your disposal.
Find us on LinkedIn and become part of our community! We keep you updated about stapp one, medicine and technology!