stapp one in a comparative test:
efficiency meets accuracy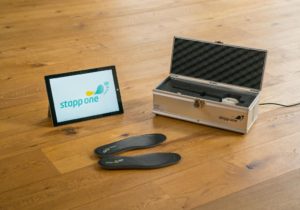 We have developed stapp one in order to collect extremely accurate gait parameters with little effort and in the most efficient way.
Compared with pure pressure sensor soles, which are considered the "gold standard" in the leading specialist publications, our stapp one sensor soles can easily keep up and provide doctors, physiotherapists and patients with additional advantages in daily use.
The starting point
In a validation study, the data quality of stapp one was compared with a similar product that exclusively uses pressure sensors for research purposes. Currently these sensor soles are the qualitative benchmark in this area. They use a foil-based pressure sensor technology and have more than 100 pressure sensors in each pair. This allows highly precise measurements. However, external electronics connected with cables, makes the application very complex and not suitable for long-term daily use.
stapp one, on the other hand, works with acceleration sensors and textile pressure sensors, based on more than 10 years of basic research. They can withstand continuous pressure loads and bending movements and are designed for the daily use in practice or in rehabilitation. In contrast to the comparative sensor soles, they are very easy to use and do not require an external electronic unit that has to be additionally attached to the body.
In addition, the accompanying medical software allows clear visualization and live-biofeedback. It can be used for real time control of the foot pressure load during therapeutic exercises and gait assessments.
The Method
To obtain meaningful results in our study, we used a pressure sensor measurement system that is commonly used in research as a reference system. Raw data from the different sensor soles were compared and gait parameters were calculated. This data set included 420 stance phases from three different walking speeds and 20 subjects.
Based on the plantar pressure load of both systems, the following parameters (among others) were calculated and subsequently compared:
Duration of the gait cycle
Duration of stance and swing phase
Step duration
Cadence
The results
There was very little difference between the stance and swing phase and step duration parameters of the different soles. The accuracy of the gait parameter cadence, that represents the number of steps per minute, was particularly striking. Here the deviation from the "gold standard" was less than 1%.
The comparative study showed that when it comes to the investigated parameters stapp one is comparable to the reference system. As a medically certified product, stapp one demonstrates even new areas of application and potentials, especially outside the laboratory.
The intuitive user interface of the program and the wireless connection between sensor soles and medical software make stapp one a valuable tool that is time-saving and easy to use.
You can request a first summary of the validation study here !
Are you interested in a product demo of stapp one? Book now a virtual and free appointment and find out how stapp one can improve your work in the medical field!
We are also available for further questions at any time.
Find us on LinkedIn and become part of our community! We keep you updated about stapp one, medicine and technology!