stapp one attends the 10th Sports Medicine Medical Park Days Chiemsee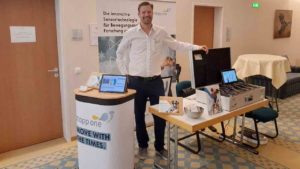 For the first time stappone attended the 10th Sports Medicine Medical Park Days Chiemsee (DE) that took place from June 29th to July 2nd. In contrast to past trade shows, such as the therapie LEIPZIG, the setting was smaller but with a highly professional audience. This intimacy and engaged audience was made for many interesting discussions at the stappone booth.
In addition to future clients, stapp one CEO Peter Krimmer also met some of his current clients at the Sports Medicine Medical Park Days Chiemsee, such as Physiotherapist Christopher Bödekker from PhysioSTA (DE). He is working with STAPP ONE Medical in his practice for quite some time now and gave a presentation on the use of the intelligent sensor soles in rehabilitation after knee surgery.
Inspiring exchange
Thanks to the intimate setting of the trade show, there was ample time for lively exchange with the expert audience. These conversations revealed new possible applications for stapp one sensor soles. For example, stapp one can be used to verify diseases where the insurance company does not cover the costs due to due to a lack of objective data. In the future the use of STAPP ONE Medical can provide evidence for such cases – an additional field of application that was discovered in the expert exchange.
stapp one in sports physiotherapy
Physiotherapists working at sports clubs also showed great interest in the stapp one solution. Promising testing scenarios that provide valuable objective movement parameters for professional athletes were discussed.
Especially when it comes to professional sports collecting objective movement data on a regulary basis is a great benefit.. If the athlete suffer an injury, the collected data will show an accurate and descriptive picture of the leg function before the injury. This frame of reference is highly valuable because the conventional approach is the approximation or assimilation to the healthy leg. However, due to the resting phase after surgery and during rehab, the healthy leg is parcially affected as well and has e.g. only 70% of it's full power. The outcome is an early comeback with a high risk of re-injury. With stapp one, this can be avoided.
Do you have any questions about the use of stapp one? Contact us! We are always at your disposal.
Find us on LinkedIn and become part of our community! We keep you updated about stapp one, medicine and technology!