Rethinking load management: stapp one sensor soles for post-treatment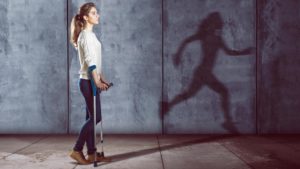 The post-treatment recommendations of the Trauma Rehabilitation Working Group / Rehabilitation Physical Therapy Section once again indicate the importance of load management. Load management is essential, especially when it comes to the area of the meniscus, tibial plateau and cruciate ligament. With stapp one, this type of therapy can be performed effectively and with enhanced accuracy.
The postoperative treatment recommendation for anterior cruciate ligament surgery recommends load management training. According to the recommendation, the medical prophylaxis can be reduced starting from a 20 kg load and the bandage can be removed. From day 1 after the operation, load management training is also recommended.¹ The problem: patients as well as treating physicians or therapists have limited possibility to control the actual pressure load. This is exactly where the intelligent sensor sole from stapp one is needed.
Load management training with live biofeedback
The intelligent stapp one sensor sole is simply inserted into a comfortable shoe and measures the foot pressure load. With the stapp one Rehab app, load limits can be set on a smartphone. Depending on the patient's choice, he or she receives acoustic, visual and haptic Live-Biofeedback if the load limit is exceeded. This frame of reference gives patients the confidence to perform the given exercises effectively and correctly – a guarantee for a faster and more efficient progress of therapy.
Independent of location
The stapp one solution is not only easy to use, but has also another unique advantage: the insoles and app can be used anywhere. This means that patients can train in situations similar to their everyday lives, such as outdoors or while climbing stairs. Such exercises are recommended, for example, after a cruciate ligament injury, but can rarely be performed correctly without the help of stapp one.²
Do you have questions about the use of stapp one? Contact us! We are always at your disposal.
Find us on LinkedIn and become part of our community! We keep you updated about stapp one, medicine and technology!