Prosthetic gait training with stapp one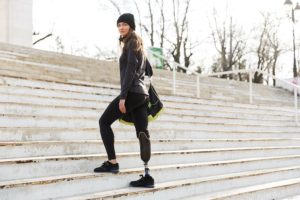 The use of prosthetic limbs is proven to help people lead a full and independent life. However, periodic gait training is indispensable to the patient's mobility and general fitness. With its unique technology, stapp one supports patients with prosthetic legs and their physiotherapists in the rehabilitation phase and gait training.
In therapy with prosthetic legs, gait training plays an essential role. The stapp one live biofeedback enhances the patient´s engagement and takes therapeutic training to a whole new level.
The intelligent stapp one sensor soles measure the foot pressure load, the body's center of gravity and various other objective parameters of your patient's gait. stapp one's proprietary medical software visualizes this data for physiotherapists and patients. In this way, high-tech prostheses can be effectively tested and readjusted if necessary. Compared to other common measuring devices, stapp one is a convenient and effective solution for training everyday movements, as it can be used not only for static but also for dynamic exercises.
Minimize asymmetries with stapp one
With stapp one the foot pressure load and the body's center of gravity can be optimally measured and visualized during simple exercises such as sitting down and standing up. In this way, patients learn the correct balance between the prosthesis and the healthy leg. This does not only improve the training effect, but can also reduce early overload symptoms and overcompensation on the healthy side of the body.
Dynamic exercises with stapp one
Another challenging exercise with a prosthetic leg is walking. In contrast to conventional measuring devices such as pressure plates, the stapp one technology is completely flexible in its use. Data is sent wirelessly and in real time to the medical software, so even dynamic gait exercises are no problem. When walking on level ground, the objective data can be used to specifically correct and improve the patient´s gait pattern.
The same applies to climbing stairs. Even in this case, the innovative sensor soles from stapp one can measure the foot pressure load during these dynamic movements.
The movement data can be streamed and displayed visually in real time. It is also possible to record and save assessments to compare different stages of the training process.
Enormous potential for research
Movement data can be collected as a data pool over several weeks for scientific research purposes. This offers unprecedented comparisons and optimization opportunities for people with prosthetic legs.
With our innovative approach, we at stapp one want to contribute effectively to improving health and mobility. To find out more about how stapp one can support your practise, contact us! We are always at your disposal and are looking forward to talking to you.
Find us on LinkedIn and become part of our community! We keep you updated about stapp one, medicine and technology!