Technological highlights
Human movement is very complex. Thanks to stappone's sensor technology, analysis and evaluation has never been easier.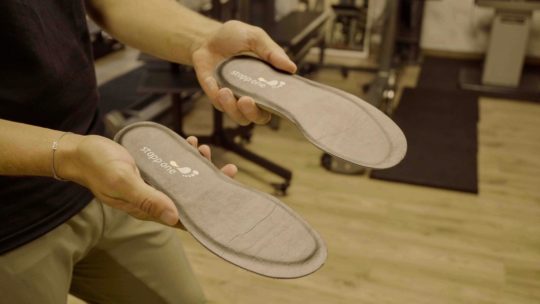 Foot pressure measurement
More than 10 years of research has resulted in the world's first unique textile pressure sensor technology. Due to the high mechanical strain and constant load changes on the foot, conventional pressure sensor soles are of limited long-term use. Our full-surface, textile pressure sensors inside the sensor sole have durability that are 50 times longer compared to standard foil pressure sensors. Our patented technology is specifically designed for daily use and provide valid measurements over long term periods.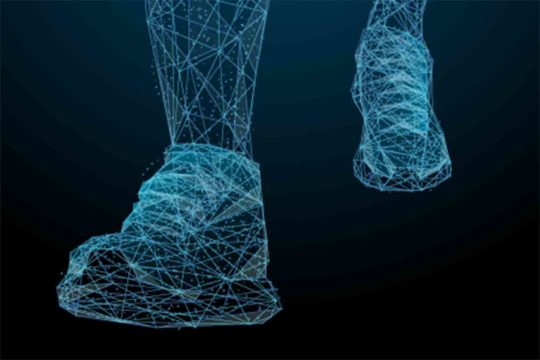 Inertial measurement unit
In addition to pure foot pressure measurement, an inertial measuring unit provides additional critical measuring points resulting in a complete analysis. (IMU = inertial measurement unit) Acceleration sensors and position sensors provide information about many other bio-mechanical processes.
Insole details
Textile pressure sensors
24 sensor fields
Sensor technology
4×6-axis IMU

4×3-axis acceleration

2×3-axis magnetometer

2×3-axis gyroscope

Internal memory storage
256 MB
Connection
Bluetooth low energy 4.2
Battery
~36 hours of use
We meet the strictest regulatory requirements:

ISO 13485 zertifiziert
Certified Medical Product
Software products for experts
| Application | stappone therapy | stappone medical | stappone research |
| --- | --- | --- | --- |
| Quick installation & easy to use | | | |
| Patient database | | | |
| Live foot pressure & balance (CoP) | | | |
| Automatic video synchronization | | | |
| Motion analysis area | | | |
| Optimized for assessments | | | |
| PDF expertise report | | | |
| Data transfer with the stappone health app (for patietns) | | | |
| Raw data export CSV | | | |
| Individually adjustable frequency | | | |
Expert analysis
Different assessments demand different reports. Reports can easily be created depending on tailored indications and questions. With stappone, scientific gait and movement parameters can be recorded on a daily, weekly or monthly basis:
Phases of gait symmetry
Phases of the foot pressure load
Phases of gait variability
Stance phase
Swing phase
Cadence
Ground contact time
Gait cycle duration
Step length
Center of gravity (CoP)
Foot roll behaviour
Pressure load
Symmetry
Walking speed
Gait variability
Understanding movement holistically - our goal!
Full focus on relevant gait and movement parameters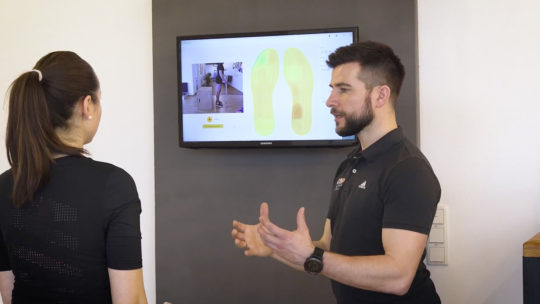 Movement analysis should only be evaluated by experts and incorporated into the overall anamnesis. With stappone we offer a very simple way to objectify human movement. We offer practical training by experts in the areas of gait and movement analysis, so our solutions are applied to patient use in the most optimal way with the best possible result. With the ultimate goal of making movement comprehensible as a whole and thus rehabilitating patients faster, which provides long-term well-being and freedom from pain.
Interested?
We are pleased about your inquiry.