Partial weight-bearing now more effective than ever with stapp one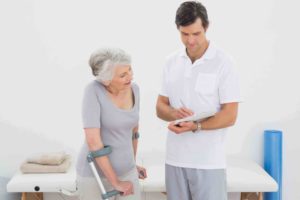 Especially older people have problems to find their way back into a self-determined everyday life after proximal femur fractures. Comorbidities increase with age and physiological reserves are lower than in young patients. ¹ Partial weight-bearing training can prevent these symptoms and is therefore an important part of post-operative care. With stapp one sensor soles, partial weight-bearing training is now more effective than ever.
Partial weight-bearing training always needs to be well balanced. On the one hand, osteoblastic processes in the bone should be stimulated by gentle movements and loading. On the other hand, too much pressure load and movement is bad for the implant. ²
The biggest challenge for patients is to execute the prescribed load limit. This is a major problem especially for older people. "Many patients are also unable to accurately reproduce a pressure load learned with the help of a bathroom scale, the hand-under-foot method, or verbal instruction." ³
The study by Adolf-Lisitano, confirms that especially older patients have difficulty executing the required load limit. This differs considerably from the young control group where 60% are able to maintain the limit. 4  Another study looking at young patients with ankle fractures shows that although they are able to carry out partial weight-bearing correctly, they are not able to implement these requirements permanently in everyday life. 5
stapp one as the first digital support tool for partial weight-bearing
The intelligent stapp one sensor sole and the correspondent medical software revolutionize partial weight-bearing training. They give patients a frame of reference and the confidence to perform the given exercises effectively and correctly. The stapp one sensor soles are simply inserted into comfortable shoes and measure the foot pressure load and body center of gravity of the patients. The correspondent medical software provides visual, audio and/or haptic Live-Biofeedback on a laptop or tablet. Patients have the opportunity to correct themselves during training or to be corrected by the physiotherapist.
By precisely executing the prescribed load limits, physiotherapists don't have to be afraid of "causing overstrain with consecutive implant failure", 6 which has positive effects on both sides.
In addition, there is the possibility to record assessments and compare them with previous trainings in order to make progress objectively visible. With objective data stapp one also contributes significantly to the research area.
Do you have questions about the use of stapp one? Contact us! We are always at your disposal.
Find us on LinkedIn and become part of our community! We keep you updated about stapp one, medicine and technology!

News: stapp one Rehab App Launch 2022
¹ Adolf-Listano, Leonard. Umsetzung der postoperativen Teilbelastung bei älteren Hüftfrakturpatienten. Eine Belastungsanalyse mittels Einlagesohlen. Dissertation. Ludwig-Maximilians-Universität zu München:2020. S. 30
² ebd.
³ Adolf-Listano, Leonard. S. 31
4 Adolf-Listano, Leonard. S. 31
5 Braun u. a., "Weight-Bearing Recommendations after Operative Fracture Treatment-Fact or Fiction?"
6 Adolf-Listano, Leonard. S. 32