Oncology as a new area of application for stapp one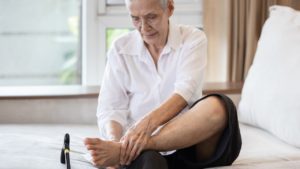 Cancer patients very often suffer from neuropathy. This disease is a result of damage to the peripheral nerves that particularly affects hands and feet. The Bachelor of Physiotherapy, Christopher Böddeker (PhysioSTA, DE), is a pioneer when it comes to the use of digital solutions and therefore relies on stapp one in the treatment of oncology patients.
Cancer therapy often damages the peripheral nervous system, which is particularly noticeable in hands and feet. Tingling, numbness, muscle weakness and pain is part of a cancer patient's everyday life. They often have problems maintaining their balance, moving around and are at high risk of falling.
stapp one in use for neuropathy
In his practice PhysioSTA in Starnberg (DE), physiotherapist Christopher Böddeker treats oncology patients who can hardly feel their feet. These patients have problems with keeping their balance and walking. Since they are suffering from numbness, they lack a reference system by which they can recognize how much pressure load they are putting on their feet. Böddeker uses the intelligent sensor soles from stapp one as a supporting tool. Simply insert the soles into comfortable shoes and they measure the patient's foot pressure load and the body's center of gravity. The corresponding medical software provides a visual live-biofeedback on a tablet or computer. This live-biofeedback simulates a reference system that neuropathy patients lack. The loss of sensation in the feet is somewhat compensated by the visual feedback, helping patients maintain balance and perform exercises.
Save, evaluate and compare data
With stapp one there is also the possibility to save and analyze data from therapy sessions. The patient's deficits can be determined precisely followed by a target-oriented treatment. You can also visualize and compare the progress made during training where stapp one shows even the smallest improvements. This has a beneficial effect on the patient's motivation. Often they feel like they are not making any progress because there are no obvious improvements. By making the smallest positive changes visible, patients have a motivating 'feeling of success'.
Do you have any questions about the use of stapp one? Contact us! We are always at your disposal.
Find us on LinkedIn and become part of our community! We keep you updated about stapp one, medicine and technology!