New stapp one cooperation: AUVA Rehabilitation Center Häring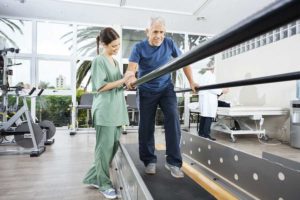 Medical rehabilitation has the important goal of enabling people to return to a pain-free and, as far as possible, normal everyday life. This requires specific therapies that match people's needs. With stapp one, the AUVA Rehabilitation Center Häring is now focusing on technological innovation in rehabilitation.
The AUVA (Austrian Workers' Compensation Board) Rehabilitation Center Häring in Tyrol (AUT) has an interdisciplinary approach to rehabilitation to ensure their patient's health. Gait analyses and innovative therapy interventions are an important aspect since specific and objective analyses and therapy methods optimize the patient´s training outcome.
Specific therapy with stapp  one
Individual and specific therapies play a major role in rehabilitation. At the Rehabilitation Center Häring the patient's foot pressure load is measured using the intelligent stapp one sensor soles and the corresponding medical software. At the same time, the live biofeedback provides objective data in real time. In therapy, this is not only beneficial for patients with orthopedic problems, but also for those with neurological diseases. stapp one enables direct feedback to patients and physiotherapists by visualizing the foot pressure load on a laptop or tablet in an easy and understandable way.
Easy to understand, wireless and flexible in its use
Analysis and training with stapp one is not restricted to only one location. It can be used in different environments (indoors and outdoors) while performing a wide variety of exercises (walking, running, standing, climbing stairs).
stapp one can be easily and quickly integrated into everyday therapy. The visualization of the pressure load and the illustration of potentials leads to a better understanding for patients and ultimately increases the therapy's likelihood of success.
Are you interested in a cooperation or have questions about the use of stapp one? Please contact us! We are always at your disposal!
Find us on LinkedIn and become part of our community! We keep you updated about stapp one, medicine and technology!