New neurological rehabilitation therapy options with stapp one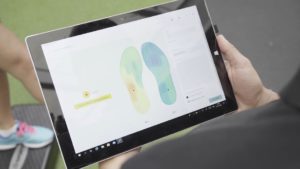 Stroke patients often have to relearn many motor activities. This learning requires patience and practice. The integration of live visual biofeedback into therapy supports patients and has positive effects.
Simple movements such as walking, standing or sitting, strain the lower extremities and have a great impact on the quality of a person's life. Biofeedback for stroke patients has been part of neurological rehabilitation for decades. ¹ However, the true potential of biofeedback can only be fully executed with professional systems, in the hands of trained therapists.
Movement learning using visual biofeedback in neurological rehabilitation
Visual live biofeedback is the act of learning movement processes. With the support of trained professionals, patients learn how to influence their movement behaviour in a correct and healthy way. In order to use these learning processes successfully in practice, patients require feedback. stapp one  provides this "feedback" and patients and therapists benefit from it. In neurological rehabilitation, the patients learn to properly direct their body and are motivated to replicate the behaviour by observing the real time visualisation of their success.
Sensor soles and software support patients and experts
On a screen, patients see in real time the smallest changes in their foot pressure load and shifting of their body centre of gravity. Even dynamic everyday situations can be trained through the mobile use of  stapp one sensor soles. In time, patients develop the ability to implement their movement learnings in everyday situations without the aid of devices.
To find out more about possible applications for stapp one sensor soles, contact us here if you have any questions.
¹Rosalyn Stanton, Louise Ada, Catherine M Dean and Elisabeth Preston , 2011. Biofeedback improves activities of the lower limb after stroke: a systematic review,  Stanton et al: Biofeedback in stroke, The University of Sydney, Australia, Journal of Physiotherapy 2011 Vol. 57 – © Australian Physiotherapy Association 2011, p.145.