New cooperation partner: Orthopedic Hospital Speising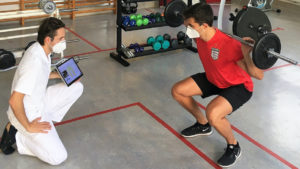 In August 2020 the rehabilitation facility of the Orthopedic Hospital Speising in Vienna/Austria has started to integrate the stapp one solution. This cooperation between stapp one and the renowned viennese clinic shows how big the interest in technological support in medicine is.  
The orthopedic specialist clinic Speising is comprised of four orthopedic surgical departments, each of them having a different primary focus. The clinic is leading in the use of knee and hip joints as well as in arm, shoulder and spine surgery. The Department of Physical Medicine and Orthopedic Rehabilitation does not only perform preventive and conservative treatment, but also offers postoperative care in the sense of early and outpatient rehabilitation.
Since May 2020 the sensor sole has been medically certified. Now we are pleased about our cooperation with the orthopedic hospital Speising. With stapp one we offer experts the possibility to record and analyze foot pressure and movement parameters with hardly any additional effort. The records and analyses make it possible to monitor the therapeutic process and can be specifically used to optimize therapy. The wireless technology provides support through a visual live biofeedback during exercises. With the clinic Speising a strong partner was found to establish stapp one as a standard in orthopedic rehabilitation.
A year of innovation and "lateral thinking": teletherapy
Due to the corona pandemic doctors could no longer treat their patients face to face. As a result, faster than expected, video consultations and remote diagnostics found their way into daily practice.
The Orthopedic Hospital Speising had to face a major challenge too. In April 2020 hardly any outpatients and inpatients could be admitted.
Together with the Orthopedic Hospital Speising we take the next step into the future. New areas of application are being researched in order to carry out high-quality gait diagnostics and physiotherapy, that can be done independently of location.
For a limited time we are offering experts the opportunity to test stapp one in their clinic or practice without obligation. Contact us here for more information.