Interview with stapp one cooperation partner Orthopedic Hospital Speising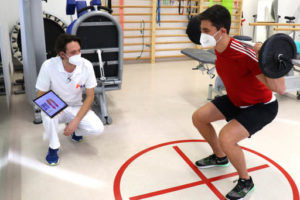 As a stapp one cooperation partner the renowned Orthopedic Hospital Speising uses the stapp one solutions in rehabilitation therapy. After working together for more than a year, we wanted to draw a first conclusion and find out how rehabilitation therapy with the intelligent stapp one sensor soles is working out.
For this reason, we met Simon Kanzian, deputy head of the physiotherapy department at the Orthopedic Hospital Speising. He emphasizes the importance of innovative technologies in medicine. His department, as well as the entire hospital, always strives to provide the best possible treatment for their patients.
The medical innovation
With the intelligent sensor soles from stapp one and the corresponding medical software, gait analyses can be carried out very easily and everywhere. The live biofeedback enables the immediate visualization of foot load and pressure distribution as well as the body's center of gravity.
These functions give us advantages in therapy, explains Simon Kanzian. "We use stapp one in our acute geriatrics and there especially for fall prevention. That means we let the patients walk a certain distance and observe the shift of the center of gravity and the step length, […] in order to detect a certain risk of falling. Secondly we use it in rehab […] mostly for exercises," explained the expert in the interview.
Higher patient motivation
In the Orthopedic Hospital Speising stapp one is especially used for patients with cruciate ligament injuries. Kanzian explains that these are often young patients who at the beginning are usually hesitant to put weight on the operated leg. Especially here stapp one provides a great support. Patients can objectively monitor their own foot pressure load on the tablet using the live biofeedback. They also have the possibility to accurately distribute the pressure load between the right and left leg.
According to Kanzian, stapp one is very well received by patients. The sensor soles use different colors to visualize the foot pressure load. This keeps it clear and simple and therefore easy to understand for our patients.
Short training, immediate application
Simon Kanzian had a positive experience with stapp one right from the start: "The software is very intuitive. We had an hour of training at the beginning and then we could start using it right away."
Watch the full interview with Simon Kanzian here.
We at stapp one are pleased about the successful and productive cooperation with the Orthopedic Hospital Speising. Are you also interested in a cooperation or have questions about the use of stapp one? Please contact us! We are always at your disposal.
Find us on LinkedIn and become part of our community! We keep you updated about stapp one, medicine and technology!