Intelligent sensor soles at the Digital Demo Day 2022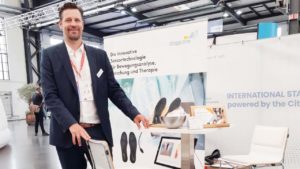 On the 18th of August 2022 the Digital Demo Day, Germany's biggest tech start-up show and conference, took place in Düsseldorf. As an innovative med tech company, stapp one participated the show and did a lot of networking.
The intelligent stapp one sensor soles are a ground-breaking innovation in the medtech sector. They are simply inserted into comfortable shoes and measure the foot pressure load. The corresponding medical software provides a live biofeedback of the pressure load and information about other relevant movement parameters. This digital approach and the resulting objective data are unique for physiotherapy, medicine, and research.
At the Digital Demo Day 2022, stapp one founder and CEO Peter Krimmer met many like-minded people from the start-up world, which led to exciting and promising contacts. The innovative technology behind the stapp one sensor sole also garnered great interest.
Another highlight of the Digital Demo Day was the talk by the keynote speaker Gernot Schwendtner who mentioned stapp one as a use case.
stapp one in Germany
However, the Digital Demo Day 2022 was not stappone's first time in Germany. Having participated in the Sports Medicine Days Medical Park Chiemsee, the annual congress of the GOTS in Berlin and other renowned trade shows and congresses, stapp one is already a regular guest in Germany. But stappone does not plan to stay a guest in the future. With the Digital Demo Day stappone is one step closer to realizing their ambition to opening an office in Germany!
Do you have questions about the use of stapp one? Contact us! We are always at your disposal.
Find us on LinkedIn and become part of our community! We keep you updated about stapp one, medicine and technology!