Get to know us personally!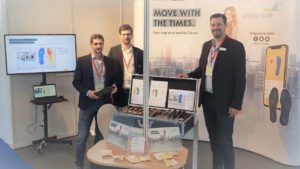 From November 19-20, 2021, stapp one will be part of the 10th Annual Congress of the German Knee Society in Leipzig. The main focus is complex knee surgery, where our intelligent stapp one sensor soles play an important role in post-treatment and rehabilitation.
This year's motto of the Annual Congress of the German Knee Society is: "The indication in focus". Surgery procedures are increasingly digitalized and extremely differentiated. For patients, the surgery itself is the first step towards recovery. However, to restore lost mobility as completely as possible, great importance must be attached to the rehabilitation process. Nevertheless, when it comes to rehabilitation of the lower extremities, such as gait analysis and load training, it is still uncommon to use digital solutions. To address this gap, stapp one offers an innovative solution. The intelligent stapp one sensor sole revolutionizes the rehabilitation process after any knee surgery.
Effective training with objective data
Just insert the intelligent stapp one sensor soles into any comfortable shoe to measure the patient's foot pressure load. At the same time, the corresponding medical software provides a visual Live-Biofeedback on a tablet or computer as well as a wide range of other bio-mechanical and time-based parameters in real time. Particularly in the field of load management, stapp one's features are very helpful. After meniscus injuries or surgery involving artificial joints, it is crucial not to exceed the specified load limits, but at the same time to challenge the joints and structures to accelerate the recovery time. Exactly at this point, stapp one should be used. The objective Live-Biofeedback allows a better treatment for patients. On the one hand, therapists can correct their patient's movements and load management, and on the other hand patients have the possibility to even correct themselves. The stapp one RehabApp for smartphones additionally supports this process. It provides patients with a choice of visual, acoustic or haptic Live-Biofeedback when the set load limit is exceeded. This MedTech-Solution is completely wireless and independent of location and therefore also suitable for training in everyday situations such as climbing stairs or walking on uneven ground.
stapp one will be exhibiting its medically certified MedTech solution at the 10th Annual Congress of the German Knee Society. Furthermore, stappone partner Christopher Böddeker PhysioSTA will give a presentation on 20.11 at 9:00 a.m. about the application of our digital solution in everyday practice.
For more information, please visit: https://10times.com/e1zh-555k-2ggs
Do you have questions about the use of stapp one? Contact us! We are always at your disposal.
Find us on LinkedIn and become part of our community! We keep you updated about stapp one, medicine and technology!