A simple way to book a stappone online product demo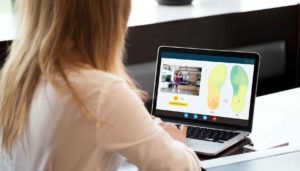 As an innovative company, it goes without saying that we offer you a modern service to get to know the stappone sensor sole. You can simply book an appointment for a stappone online tele-demo via our website.
The interest in stappone is immense and comes from all over Europe. This is shown by enquiries from the entire German-speaking area, UK or Scandinavia. With our online service tool, we now offer all interested parties the opportunity to get to know stappone personally – no matter where you are based.
Simply book your appointment online for a 30-minute live product demo. Experience 1:1 the application possibilities of stappone, how intuitive the software is to use and which movement data can be captured or analysed. We would also be happy to advise you on how you can use stappone in your practice – be it in rehabilitation, research or training.
The online booking for the Tele-Demo is very simple. You will receive a video link after your request. At the desired date and time, you simply click on the link and the presentation will begin.
Click here to book your Live Product Demo.