Telemedicine and the power of motivation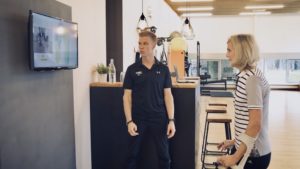 The motivation of patients and therapists is crucial for therapeutic treatments to succeed. The emergence of telemedicine solutions, that establish a continuous relationship between patients and medical experts, helps increase motivation in and outside the traditional practice setting.
The research project ReMove-it (University of Potsdam) deals with the use of telerehabilitation. For example, patients who have undergone surgery on artificial hip and knee joints are offered telemedically assisted rehabilitation for three months at home: The development and verification of algorithms regarding technical feasibility and patient acceptance is currently being investigated. What is already obvious, however, is that many patients often do not take advantage of aftercare services due to long journeys. In the medical field it is therefore important to think about the individualization of rehabilitation offers and to develop bespoke programs.¹ Telemedicine opens up new and exciting possibilities.
Stappone, with its intelligent sensor sole and software technology, can make a significant contribution here. On the one hand, stappone is working on a teletherapeutic solution that will soon be on the market, on the other hand, applications with stappone have already demonstrated in practice what a motivational boost – the sensor sole and live feedback – can bring to patients.
The use of stappone in the training and rehabilitation area shows patients the pressure load on the foot during exercising. At CIM (Competence in Motion) in Graz, stappone was used for patient treatment. In a therapy exercise with a patient with an ankle joint injury, maximum pressure had to be applied to the forefoot during the last phase of foot impression to achieve the appropriate physiological gait pattern. With stappone, the patient was able to see on the screen real time pressure deficits. With the stappone sensor soles and live data transfer, details of pressure displacement and the body's center of gravity to be quickly and easily analyzed and explained. The patient was enthusiastic about the ability to view their training session and progress. An application of stappone at home would be desirable from the patient's point of view.
These are ideal conditions for teletherapeutic developments in the training and rehabilitation sector.  It can be assumed that, triggered by Corona crisis, teletherapy will experience rapid growth.
¹ https://www.uni-potsdam.de/de/rehawiss/forschung/projekte/remove-it-wirksamkeitsstudie-einer-telemedizinisch-assistierten-bewegungstherapie-fuer-die-rehabilitation-nach-intervention-an-der-unteren-extremitaet.html