6 minute walking test no longer up-to-date?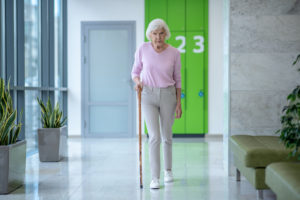 Scientific studies now suggest that by extrapolating the data of a 2 minute walking test a 6 minute walking test is no longer required. This means a savings potential of 2/3 of the execution time.
Gait analysis is commonly used to assess and treat people with lung diseases, cardiological diagnoses or patients with neurological problems, amputations, circulatory problems, orthopedic restrictions, kidney or liver diseases.¹
A 10 meter or 6 minute walking test is used depending on the pathological problem. For example, the 6 minute walking test can determine how quickly patients with lung problems get tired. It is also used for children with neuromuscular diseases. However, longer tests are more stressful for patients and also time-consuming.
stapp one's sensor sole and software technology is constantly expanding. Useful functions have been added in order to preserve resources and provide evidence-based therapy in everyday practice. For example, the 2 minute walking test with relevant movement data can be carried out without any additional effort and provides valuable medical reports. Just put the sensor soles into comfortable shoes to start a completely wireless gait analysis, anytime anywhere. Using the stapp one medical software, you can analyze and export the data with just one click.
stapp one sensor soles offer a fast and easy solution for gait analysis or assessment tests. Do you carry out gait analysis in your practice and you have questions about the use of stapp one? Contact us! We look forward to hearing from you.
Please send me publications about the 2 minute gait analysis for free.
¹ Bohannon et al. BMC Research Notes 2014, 7:269 http://www.biomedcentral.com/1756-0500/7/269, p.1