Teletherapy starts now!
1,5 billion people worldwide suffer from orthopedic and neurological gait and movement disorders!
The entire bodyweight, hence psychological distress and excessive strain, keeps being  transfered directly on the foot and leave traces on the foot strain in many cases.
For medical practices, clinics and physiotherapists, the medically certified sensor sole stapp one opens up new possibilities for assessing movement problems and treating their patients. stapp one records evidence-based foot pressure and gait parameters and uses them to create a long-term movement analysis. On the one hand, this enables location-independent, medical health monitoring and, on the other hand, modern therapy support using biofeedback.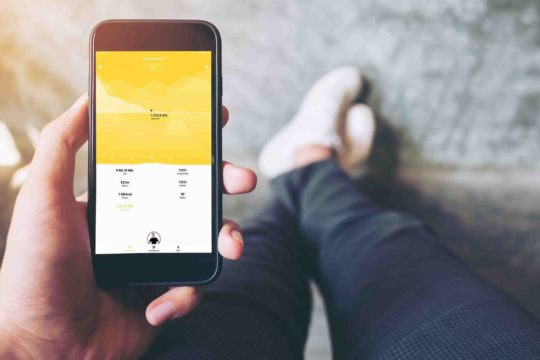 Objective control of a therapy
Mobile long-term diagnostic
Partial load monitoring
Therapy device (biofeedback)
Orthopedic rehabilitation
Foot & ankle injuries
Total knee / hip prosthesis
Cruciate ligament surgery
Leg amputations / prosthesis supply
Partial physical load training
Neurological rehabilitation
Multiple sclerosis
Parkinson
Stroke
Polyneuropathy
The stapp one Telehealth-Set for your patients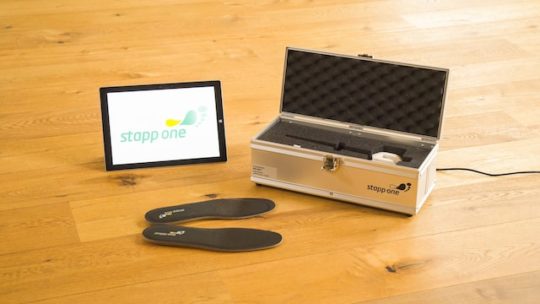 1 pair of medical sensorsoles in sizes (USA 6-13)

2 integrated stapp

 

one chargers (wireless)

stapp

 

one health-App for iOS/Android

certified medical product
Assessment function




Process control




Playful support



Live biofeedback & training function

Online & offline data transfer to the stapp

 

one medial software for detailed analysis
Private, safe and certified!
The stapp one system allows recorded data to be saved directly in the flash memory of the sensor sole. This provides for complete and self-sufficient recording without the need of additional equipment or internet connection. In the future, the data can also be optionally saved in the ISO-certified, secure health cloud from stAPPtronics, which is subject to the strictest European data protection guidelines. At the request of the patient, this data can be shared with doctors and physiotherapists.
Interested?
We are pleased about your inquiry.