stapp one – the innovation of partial
weight-bearing in rehabilitation
After injuries or surgery, e. g. on the knee, partial weight-bearing in rehabilitation is an important issue. The results of common measuring devices, such as pressure plates and bathroom scales, are often incomplete. The intelligent sensor soles from stapp one are the comprehensive innovation for partial weight-bearing in rehabilitation.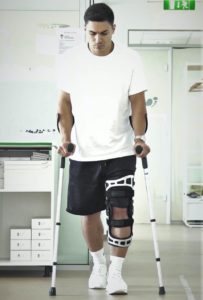 Knee injuries can have a major impact on your life, especially when you are an athlete. There's a big desire to return to your sport as soon as possible. Mobilization with partial weight-bearing, allows the process of rehabilitation to start earlier. That is beneficial to the overall regeneration of the injured structure. Additionally, mobilization with partial weight often brings patients closer to their goal of a nearly complete restitution of mobility.
Common partial weight bearing techniques involve pressure plates or bathroom scales. These either only provide static weight tendencies or are a very expensive purchase. Furthermore both are tied to a fixed location.
The intelligent sensor soles from stapp one in combination with the medical software are the innovative solution in the area of partial weight-bearing. Simply insert the sensor soles into comfortable shoes and measure your patient's foot pressure. Load limits can be set in kg or percentages. The medical software provides acoustic and/or visual live biofeedback to patients and physiotherapists. In contrast to pressure plates where patients have the possibility to only take one step in a selected area, they are fully mobile and can take numerous step sequences. The live biofeedback allows the observation and control of the partial weight-bearing under dynamic conditions, even when climbing stairs.
The innovative stapp one sensor sole allows patients to receive immediate feedback while walking. This makes it easier for patients to stay within the prescribed load range and provides more safety in the rehabilitation process.
stapp one is the innovation for partial weight-bearing in rehabilitation. Do you have questions about the use of stapp one? Please contact us! We are always at your disposal!