stapp one - the technological highlight
Foot pressure measurement
More than 10 years of research has resulted in the world's first unique textile pressure sensor technology. Due to the high mechanical strain and constant load changes on the foot, conventional pressure sensor soles are of limited long-term use. Our full-surface, textile pressure sensors inside the sensor sole have durability that are 50 times longer compared to standard foil pressure sensors. Our patented technology is specifically designed for daily use and provide valid measurements over long term periods.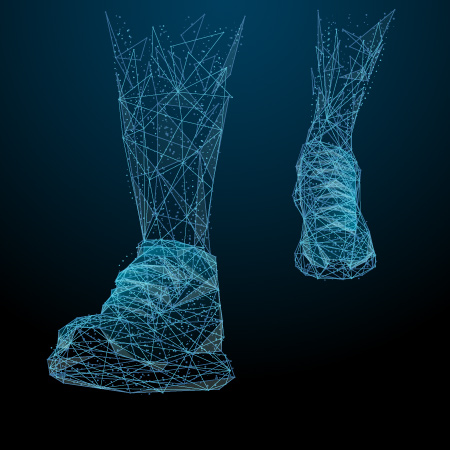 Inertial measurement unit
In addition to pure foot pressure measurement, an inertial measuring unit provides additional critical measuring points resulting in a complete analysis. (IMU = inertial measurement unit) Acceleration sensors and position sensors provide information about many other bio-mechanical processes.
stapp one technichal features:
Insole details
Textile pressure sensors
24 sensor fields
Sensor technology
4×6-axis IMU

4×3-axis acceleration

2×3-axis magnetometer

2×3-axis gyroscope

Internal memory storage
256 MB
Connection
Bluetooth low energy 4.2
Battery
~36 hours of use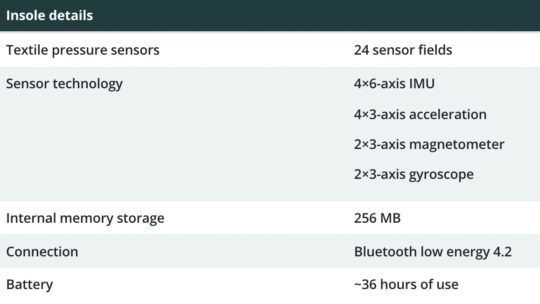 Testimonials
This is what doctors, physiotherapists and patients say about stapp one.
The stapp one solutions significantly improve our daily work with patients.
The software is very intuitive. We had an hour of training at the beginning and then we could start using it right away."
Using it during the '6 minutes walking test' assessment, provides increased significance because by collecting the data a 'mini gait analysis' is performed as well. The patient receives a visual representation of the data and patient education starts from the very first step.
Interested?
We are pleased about your inquiry.