Partial weight bearing rehabilitation advantages of stapp one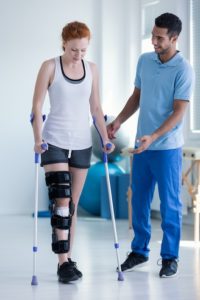 Sensor soles offer partial weight-bearing advantages over force plates or personal scales during rehabilitation. stapp one improves mobilisation and rehabilitation by allowing for partial weight-bearing, precise movement analysis and live biofeedback.
After injuries, operations and treatments of the musculoskeletal system, in many cases partial weight bearing is a possible patient rehabilitation. The aim after operations is always to restore lost mobility as completely as possible. A gradual build-up and mobilisation as early as possible are conducive to overall regeneration. This goal can be achieved by mobilisation using partial load therapy.
"Mobilization as early as possible accelerates the healing process and improves overall functional movement. " West JL et al.¹
Various injuries or chronic diseases of bones, muscles, tendons or ligaments also frequently lead to reduced mobility. Even in these cases, successive mobilisation therapy using partial weight bearing can be beneficial.
stapp one sensor soles are ideal for use partial load rehabilitation. Our sensor soles can be placed in comfortable shoes and with the help of stapp one software the live biofeedback is visualised on any smartphone, tablet or computer screen.
Advantages of sensor soles for partial load: Measurement of dynamic conditions
A method often used for mobilisation under partial load is achieved by using a personal scale. This enables patients to gradually remember how the correct partial weight-bearing "feels". Rehabilitation using force plates is also a possibility for rehabilitation training, but this solution is cost prohibitive for most practices, as the purchase of the plates are very expensive. Force plates also have another disadvantage in that only one step can be measured, failing to provide a larger sequence of steps.
With the use of personal scales and force plates this important aspect of rehabilitation is missing. Using stapp one sensor soles, this is no longer the case.
Specifically, stapp one soles allow for the observation and control of partial weight-bearing under dynamic conditions. Via live biofeedback, the sensor soles enable the observation and analysis of partial weight-bearing by patients and therapists during walking and climbing or descending stairs.
Forces arising in joints are often many times greater than the partial load specification and often remain undetected under observation using force plates and personal scales. Not to be neglected are other high forces caused by muscles crossing joints, tensile movements and tensions of fasciae, tendons and ligaments.
A dynamic measurement is simplified by stapp one sensor sole's live biofeedback. Our portable and mobile "pressure measuring sole" system, makes rehabilitation under partial load possible in a completely new way.
Patients stay in the right load range
Rehabilitation with stapp one sensor soles have the further advantage in that it is easier for patients to maintain the right load area while walking, because the live biofeedback of the stapp one medical software allows real-time feedback while walking. The stapp one sensor soles can therefore be used in therapy as an innovative biofeedbacktraining.
Rehabilitation facilities or research institutes are welcome to contact us here.
¹West JL; Keene JS, Kaplan LD (2008) Early motion after quadriceps and patellar tendon repairs: outcomes with single-suture augmentation. Am J Sports Med 36(2):316-323