Optimal postoperative therapy after cartilage transplants.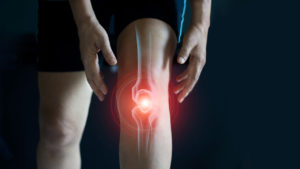 Knee and ankle implantations require an added level of treatment sensitivity in rehab. When it comes to the autologous chondrocyte implantation, there are some guidelines and recommendations for the postoperative phase, which is crucial for the patient's recovery. Here, stapp one offers optimized post-treatment options!
The classic autologous chondrocyte implantation for the treatment of large cartilage defects in the knee joint has by now become a standard procedure. Numerous long-term studies speak for its effectiveness. However, there are still many open questions regarding the optimal postoperative therapy – also when it comes to controlling the surgical results.
The study
In the paper "Post-treatment rehabilitation after autologous chondrocyte implantation. State of the art and recommendations of the clinical tissue regeneration study group of the German Society for Accident Surgery and the German Society of Orthopedics and Orthopedic Surgery." the members of the clinical tissue regeneration study group were asked about the post-treatment of the mentioned surgery using a standardized questionnaire. The aim was to answer the open questions. The outcome is recommendations for the post-treatment of femoral defects.
Recommendations for post-treatments
The study showed that during the postoperative rehabilitation phase, exercises should be performed using partial weight bearing. Every week the weight bearing should be increased by 15-20 kg until full weight bearing is achieved.
However, something is still unclear: How do patients know what 15 kg of biomechanics stress feels like? And how can the therapist determine whether the pressure load is actually correct?
This is exactly where stapp one's intelligent sensor soles can be used to optimize training. The foot pressure load of the person wearing them is measured wirelessly and visualized via the stapp one smartphone app. With acoustic, visual or even haptic live biofeedback, patients have the possibility to set a minimum and maximum load limit and can correct themselves by adjusting the load.
stapp  one helps at every stage of rehabilitation
stapp one offers important support in the area of partial weight bearing rehabilitation. Scientific studies confirm that patient compliance increases with feedback systems. With stapp one you can see more than the naked eye permits. Even the slightest pressure deviation is visible, ensuring correct pressure load and an effective training process.
Do you have any questions about the use of stapp one? Please contact us! We are always at your disposal.
Find us on LinkedIn and become part of our community! We keep you updated about stapp one, medicine and technology!

¹M.F. Pietschmann, A. Horng, C. Glaser, D. Albrecht, J. Bruns, S. Scheffler, S. Marlovits, P. Angele, M. Aurich, U. Bosch, J. Fritz, K.H. Frosch, T. Kolombe, W. Richter, J.P. Petersen, U. Nöth, P. Niemeyer, M. Jagodzinsky, P. Kasten, K. Ruhnau, P.E. Müller. 2012. Berlin Heidelberg:Sprinter Verlag.