Hemophilia, partial weight-bearing and gait analysis: stapp one is an all-round therapy solution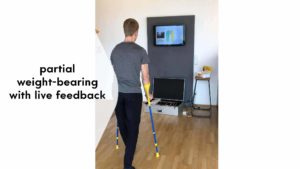 The stapp one cooperation partner "Competence in Motion" (CIM), regularly uses the intelligent sensor soles from stapp one in physiotherapeutic treatments. Their patients and therapists benefit from the many innovative applications it provides.
The physiotherapists at CIM, Emanuel Reiter, Jürgen Ableitner and Daniel Taubenschmid, are experts in the fields of movement, gait and walking analysis, physiotherapy, sports science and osteopathy. For treatments and physiotherapeutic training, they rely on stapp one's intelligent sensor soles, live biofeedback and the resulting objective data.
stapp one use case
CIM patient Dr. Hüttenbrenner suffers from hemophilia. After years of microhemorrhages in his upper ankle and reduced movement capabilities, he had a total endoprosthesis implantation. After surgery, he trained at CIM for 12 weeks with partial weight-bearing instructions. Following such a  surgery – and especially for patients with hemophilia – it is crucial not to exceed the load limits set by the doctor. The optimal pressure load is essential for rapid rehabilitation and wound healing.
However, it is difficult to determine the optimal pressure load with the naked eye. To have the correct balance between both legs without any help is a difficult task for patients because they have not internalized the feeling of the correct pressure load in all everyday situation.
Both, the patient Dr. Hüttenbrenner and his physiotherapist were able to benefit significantly from stapp one. The intelligent sensor sole measures the patient's foot pressure load. At the same time, the correspondent medical software enables visual and acoustic live biofeedback on a tablet for the attending physiotherapist as well as the patient. This kind of visualization enabled Dr. Hüttenbrenner to correct himself during exercises. stapp one's gamified user interface also helps him to playfully remain within the specified load range and makes it possible to relearn the feeling of the correct pressure load.
Advantages of using stapp one
The physiotherapists at CIM emphasize the easy use of stapp one as well as its broad range of application. The MedTech tool is not restricted to any one location and is therefore also perfect for dynamic and everyday exercises such as climbing stairs or walking outdoors on uneven ground. Here, too, the limits that were set before can be easily checked and corrected during training with partial weight-bearing instructions.
Do you also want to test stapp one in your practice or do you have further questions about the use of stapp one? Please contact us! We are always at your disposal.
Find us on LinkedIn and become part of our community! We keep you updated about stapp one, medicine and technology!